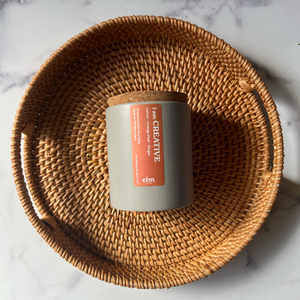 Lesser-Known Scents that Captivate the Senses
While you may already be acquainted with our best-selling scents, such as the evergreen Whidbey Woods, the invigorating Whidbey Sunrise, or the seaside Double Bluff Beach, there's an entire world of scents that draws inspiration from the breathtaking landscapes and captivating aromas of Whidbey Island.
In this blog post, we invite you to embark on a fragrant journey that unveils the hidden gems of Elm Design Candles' Whidbey-inspired scent repertoire. From the fresh Salt & Summer, reminiscent of a sea breeze, to the grounding affirmation scent of Intuition, each fragrance has been meticulously created to transport you to the heart of Whidbey Island, evoking its natural beauty and serene atmosphere with every flicker of the flame.
Scents similar to Whidbey Woods:
If you find solace and comfort in the evergreen scents of Whidbey Woods, then you'll love exploring Elm Design Candles' other aromatic offerings.
Scents similar to Whidbey Sunrise:
If you're drawn to the lively and vibrant energy of Whidbey Sunrise, then you'll adore the invigorating combinations we've come up with.

Scents similar to Double Bluff Beach:
If you crave those refreshing beach vibes like Double Bluff Beach then you'll want to try some of these "hit-the-beach" blends we come up with.

Scents similar to Gardenia Tuberose:
If you adore the fragrant bliss of garden florals like Gardenia Tuberose then check out these other dreamy blends.

So, get ready to ignite your senses and explore the captivating scents that pay homage to our beloved Whidbey Island. With Elm Design Candles, you can experience the magic and serenity of this island paradise, no matter where you are in the world.