Elm Design Gift Guide 2022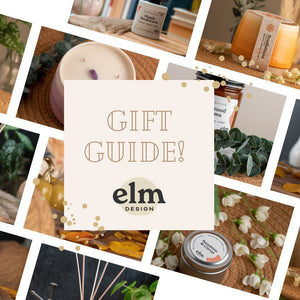 Written by Ne'cole King
We, at Elm Design, have put together a nifty gift guide filled with loads of suggestions for all your nearest and dearest. Why? Because we too feel like we all could use a little more dazzle, and a lot less frazzle this holiday season! Let the gifting commence!
For the Festive Folks:
Keep it holiday-centric, this crew LOVES Christmas Cheer. Opt for the spiced warmth of Yuletide Carols, reminiscent of time spent hearthside with family and friends. Brisk and pine-scented Whidbey Winters, or cozy Sweaters on the Cove will delight one and all. Your sweet and sassy gift-ees, will be delighted by Naughty but Nice, with its complex blend of cardamom and cream.
For the Groovy Gang:
You know who we're talking about here. Those peaced-out sweethearts who wax nostalgic for the 60's: bellbottoms, tie dye, Woodstock, and all. Hippie Bookworm and Fireside Nights will totally be their vibe. For your yogi friends, pick up one of our Chakra candles – Root Chakra or Sacral Chakra are especially certain to enhance meditation practice.
For Your Tree-Hugging Nature Lovers:
Either Whidbey Woods or Mountain Juniper are guaranteed to please. Bring the outdoors in, with either of these breezy, refreshing scents.
For the Beach Babes:
It may be chilly outside, but our fresh, citrus scents: salty Double Bluff Beach, or joyful Whidbey Sunrise will recall brighter days spent traipsing on one of Whidbey's beautiful seafronts. Trust: the babes will thank you.
For the Sophisticate who has Everything:
Sleigh Bells Reed Diffuser is a savvy alternative to burning candles, with its clean, bright fragrance. Cascade Calm offers a soothing, spa-like olfactory experience. Your discerning recipient will feel like they just breezed out of the swankiest retreat.
For Your Spiritualist Seekers:
All of our chakra candles are destined to be received as thoughtful, one of kind gifts. Each comes in a unique ceramic container, made by local artist, Briggs Shore, and with a gemstone and oil blend specific to each chakra.
For the Man (or men – who are we to judge?) in Your Life:
Listen: They may roll their eyes as you discuss scent and fragrance, but any of our robust, invigorating candles will please even the most macho dudes. Try Whidbey Woods or Mountain Juniper for your forest lovers, earthy Fireside Nights, or cozy-in-a-cool-way Yuletide Carols. (Added bonus: for those extra, ahem, musky men…these candles are your new best friend.)
For the Whidbey Island Enthusiasts:
All those chums who can't get enough of Whidbey will be thrilled by our namesake candles. Choose from pine-scented Whidbey Woods, calming Whidbey, I'm Home, or the sea-salty, citrussy goodness of Double Bluff Beach, to tide (wink, wink) them over until their next Whidbey visit.

Happy Holidays, One and All! May the season be Merry and Bright.
In the words of Winston Churchill, "We make a living by what we get. We make a life by what we give."
With Love and Good Cheer,
The Team at Elm Design Candles