Get to know Meggan of Elm Design Candles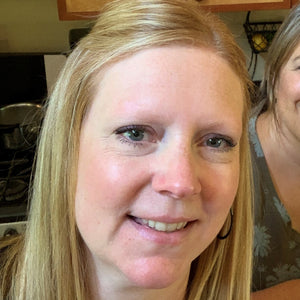 Written by Nécole King
Let's get to know Meggan Lubach, Elm Design's Production Specialist, and second in command. Meggan gives off an incredibly capable, relaxed vibe, yet still manages to keep up with a very busy life, as well as a full workload at Elm, crafting each unique, hand-poured candle. She does it all with grace, and a warm smile.
Nécole: First off, Meggan, tell me a bit about yourself and your life outside of Elm Design Candles.
Meggan: I have been lucky enough to live on Whidbey for over 38 years…my family relocated from Longview, Washington in the early 80's.  My husband Brion and I have Carson who is 21 and got married to his wife Melody last year and Braedon who is almost 13.  I love that my mom and her husband, as well as my brothers, all still live on the island….it has been rewarding watching our boys and their cousins grow up together.  We love to travel, go camping, hiking, play pickleball…really anything outdoors.  I have worked for The Inn at Langley for 10 years as their Finance Manager and Group Sales Coordinator, a dream job really as I love the team that I have the opportunity to work with.  The flexibility of my job at The Inn has also allowed me to coach volleyball at SWHS for the last 14 years as well as taking on a new role as assistant coach to my son Braedon's club volleyball team this year.
Nécole: Wow! You have a serious amount of life going on! That's quite inspiring that you manage so much, and truly seem to love doing it all. On top of all that, how did you come to start working with Erin (Morgan, Founder) at Elm?
Meggan: Erin and I happened to run in to each other at the coffee stand in the Fall of 2021 and now, here we are!  I am so grateful that Erin put her trust in me and allows me to be a part of her business that is so near and dear to her heart…. the story behind Elm is very inspiring!  
Nécole: (Readers, see our previous blog post on our founder, Erin Morgan, to catch up on her very moving story.) That is so fortuitous, and wonderful, given that 2021 was such a strange and challenging year, with a global pandemic turning life upside down. I think it's a true sign of optimism and strength that you took on something new and became the force at Elm that you are now, less than two years later.
How has the learning process been for you, taking on this new role as Candlemaker Extraordinaire?
Meggan: I find the candle making process to be very therapeutic and rewarding.  The idea of creating something that puts a smile on somebody's face makes me happy.  
Nécole: Candle making seems to really fill a need many of us found we had during the early Covid months: that desire to create, to take time to find a calming, rewarding space in a life that is typically run at a harrying pace.
Meggan: Exactly!  My husband says that this job has changed me….and I would agree. I feel a sense of calm from my time working at Elm. Erin and I have the best time together. I am so excited to see what the future has in store for us!
Nécole: As you should be! I can't wait to see where both you and Erin lead Elm in the coming months and years.
Alright, fun fact time: What's your favorite of the Elm scents?
Meggan: Oh, this is a tough one. Really it depends on my mood.  I have always been a candle girl…I tend to be drawn to more citrus and floral scents, but in my pouring, I have discovered I like a pretty wide variety of scents.  Double Bluff, Whidbey Sunrise and one of our holiday scents, Naughty but Nice are some of my faves.
Nécole: It's a luxury that you have so many unique and beautiful fragrances to choose from…all thanks to your, and Erin's, hard work! Tell me: do you take your work home with you…i.e., the Elm goods? Just how many candles do you own, or do you like an olfactory break, after spending hours crafting all those deliciously scented candles?
Meggan: While we have our bestselling year-round scents, we like to introduce a few new scents each season, so we are always testing out new possibilities. Which means, yes, I do get to trial our products. I love getting feedback from Brion and Braedon when I bring new samples home. This way, I can be sure that our buyers are getting the very best quality product, every time they purchase an Elm creation.
Nécole: A major perk, it sounds, in a role with so many perks! Congratulations on finding this calling that lights you up and makes the world a brighter, and better smelling, place.
To read about how Erin founded Elm Design click here.