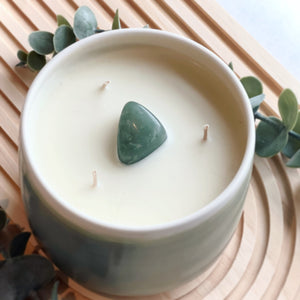 Written by Nécole King
In our modern, consumer-driven world, words like "eco-friendly", "sustainable", and "clean" have become buzz words, often used to sell a less-than-clean product. Here at Whidbey Island-based Elm Design, we honor the meaning of those words with the intention of crafting mindfully made creations that do not our harm our environment, or our customers. In Founder Erin Morgan's words: "Every day, I see more clear cuts on this island I love. More animals displaced, less trees to clean our air, depletion of our resources…and it makes me sad. I know it is happening everywhere and I'm trying to do what I can as a person, and as a company."
In order to build a company with integrity, with a deeply felt regard for our natural surroundings, Elm has developed several strategies to approach true sustainability practices. Eco-friendly, reusable vessels including metal tins, glass, and ceramics hold our candles and reed diffusers. All of our products are packed for shipping in recyclable, or reusable (cardboard or paper) packaging. Elm also offers a refill program, where buyers can return used vessels to be given new life, filled with a fresh candle at a 10% discount, thereby saving that tin or jar from the landfill, as well as saving themselves a bit of money.
Our chakra candles go a step further, sold in a beautiful, handmade ceramic containers made by local ceramicist, Briggs Shore. These small pots, first used to hold our candles, are destined for future repurposing, being sold with a seed-infused packing paper which can be planted directly into our pots. The seeds are non-invasive species, as well.
As another means of staying true to its mission of mindful sustainability, Elm Design crafts its lines with quality oils and soy-based wax, purchased from a company that has a rigorous laboratory testing process. Elm believes it is important to create candles and diffusers that we can enjoy to the fullest without having to worry about ill effects on our health. Buyers can rest assured that our products do not contain carcinogens, mutagens, reproductive, organ or acute toxins, or phthalates. In addition, we use 100% soy wax in our candles, derived from US grown soybeans. This wax is vegan, paraffin-free, and petroleum free. This sustainable and renewable resource helps US farmers, and creates a long, clean, and even burning candle.
Finally, in order to benefit our immediate location, Elm donates a percentage of its profits to Whidbey Camano Land Trust, which works to preserve strategic land here on Whidbey, and Camano Island.
Elm Design takes an active role in working to create sustainable, non-harming products, because we believe, at the end of the day, that if everyone does their part, we can make a big difference together. We aim to further our positive impact in future, because we care deeply about nature, and our footprint upon our island, and the Earth.