The Ultimate Guide to Candle Care: Expert Tips from Elm Design Candles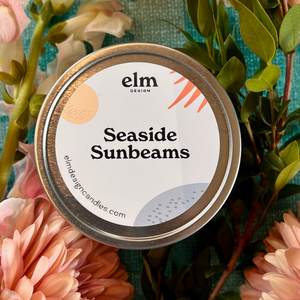 Welcome to Elm Design Candles, your trusted source for premium, uniquely scented, handcrafted candles. We believe that candles have the power to transform any space into a haven of relaxation and tranquility. To ensure you get the most out of your candles, we have compiled a comprehensive guide on candle care. In this blog post, we will share expert tips and insights to help you extend the life of your candles, achieve optimal burn performance, and create the perfect ambiance in your home.

Choosing the Right Candle:
Before diving into candle care, it's important to start with a high-quality candle. At Elm Design Candles, we take pride in using sustainably USA-grown soy wax and carefully selected incredibly clean fragrance oils to deliver a superior product. Our candles are thoughtfully hand-poured and crafted to ensure a long-lasting and even burn.

Trim the Wick:
To achieve a clean and efficient burn, always remember to trim the wick before lighting your candle. A wick that is too long can create excess smoke, uneven burning, and soot buildup. We recommend trimming the wick to about ¼ inch before each use. This simple step will help you maintain a steady flame and prevent any unwanted residue.

Allow for Proper Burn Time:
For the first burn, it's crucial to allow your candle to achieve a full melt pool. This means letting the wax melt all the way to the edges of the container. This process ensures that your candle burns evenly and avoids the dreaded "tunneling" effect, where wax is left unused along the sides. Ideally, burn your candle for at least one hour per inch in diameter to achieve a complete melt pool.

Extinguish Candles Safely:
Always prioritize safety when extinguishing your candles. We recommend using a candle snuffer instead of blowing to minimize smoke and wax splatter. Additionally, never leave a burning candle unattended or near flammable objects.

Avoid Drafts:
Drafts can disrupt the candle's flame and cause uneven burning. Place your candle in an area away from open windows, vents, or fans to ensure a consistent and even burn. This will help maximize the lifespan of your candle and prevent wax from melting unevenly.

Storage and Maintenance:
When not in use, store your candles in a cool, dry place away from direct sunlight. Exposure to heat and sunlight can cause fragrance degradation. Keep your candles dust-free by covering them with a lid or placing them inside a protective container.

Candle care is essential for maintaining the longevity and performance of your candles. By following these expert tips from Elm Design Candles, you can create a cozy and inviting atmosphere while enjoying the beautiful fragrances our candles offer. Remember to trim the wick, allow for proper burn time, extinguish candles safely, and store them in optimal conditions. With these practices, you'll elevate your candle experience and continue to enjoy the soothing ambiance and exquisite scents that Elm Design Candles provides.

Enhance your home with our collection of handcrafted candles and let Elm Design Candles illuminate your space with warmth and elegance. Explore our wide range of scents and designs at https://elmdesigncandles.com/.